Event Registration Policies
Registration rules and participation policies for in-person and virtual ASCD events.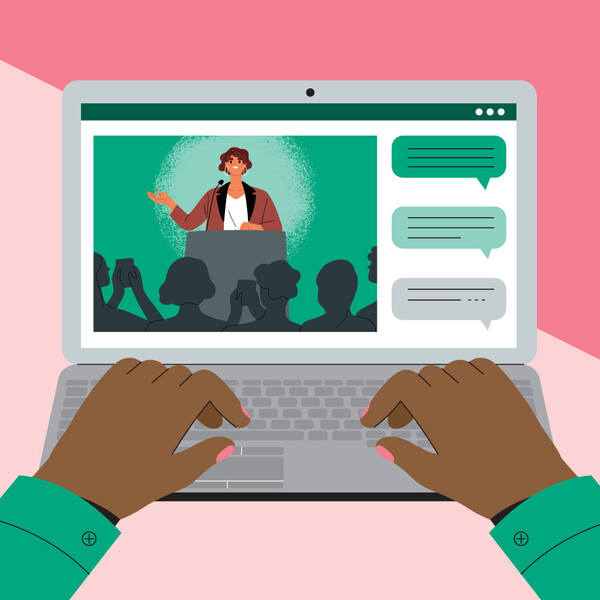 Attendees at ASCD institutes, pre-conference institutes, summits, retreats, bootcamps, workshops, webinars, and conferences must be 18 years of age or older to attend, unless written authorization has been secured in advance from ASCD.
---
Consent to Use Video or Photographic Images and Share Information
Registration and attendance at or participation in ASCD meetings, conferences, institutes, and other activities constitutes agreement by the registrant to ASCD's use and distribution of the registrant's image or voice in photographs, videotapes, websites, electronic reproductions, and audiotapes of such events and activities. If you have questions about our policy, please email our Legal Department.
By registering for an ASCD event, you agree that we may provide your registration information to our sponsors, partners, and affiliates who helped make this conference possible and that they may contact you with offers that may be of interest to you. If you do not want us to share information about you, please send your request to one of the following:
Phone: 1-800-933-ASCD (2723) or 1-703-578-9600
Mail:
ASCD
P.O. Box 826887
Philadelphia, PA 19182-6887, USA
---
Registration Terms and Payment Types
Registrations are accepted on a full-payment, first-come, first-served basis only.

Registration for an ASCD event does not include hotel, travel, activities, or meals other than those specified in the event details, nor does it include registration for any pre-conference institutes or keynote luncheons, which require separate registration and payment. Check the registration form for any additional fees.

Registration fees for ASCD events may be found on our website. In addition to the online registration option, you can also submit your registration and any questions in the following ways:

Phone:
Monday–Friday, 8:30 a.m.–5:00 p.m. U.S. eastern time
1-800-933-ASCD (2723) or 1-703-578-9600

Mail:
ASCD Conference Registration
P.O. Box 826887
Philadelphia, PA 19182-6887, USA

Fax: 1-703-575-5414

Email: Registration

Download the applicable registration form for the specific event or conference by visiting the registration information for the event on our website. Registration is also accepted on-site for an additional fee.

We do not accept credit card information via email. Purchase orders* are accepted via fax, and checks and money orders must be mailed.

Full payment must accompany registration. We accept the following payment methods:

MasterCard | Visa | American Express | Discover Card | Money order | Purchase order | Check

We also accept wire transfers. Please email Registration for transfer procedures.

*All purchase orders for institute, pre-conference institute and conference registrations and/or luncheons must be paid in full within 30 days of the invoice date. No purchase orders will be accepted on-site.
---
Registration Confirmation
If you register and pay with cash, check, or purchase order, you will receive a confirmation email within two weeks from registration@ascd.org. If you register online, you will receive an immediate confirmation from webhelp@ascd.org.
Please do not book nonrefundable airline tickets. Please see the ASCD event cancellation policy.
---
Special Services
Please notify ASCD when you register if you need a sign language interpreter or other special assistance. ASCD must be notified in writing at least 30 calendar days prior to the event.
---
Badges
In an effort to enhance security, ASCD requires conference and pre-conference attendees to wear their event name badge at all times during event hours. Attendees can pick up their badges in the registration area. Badges must be worn at in-person events and certain related services such as exhibit shows and shuttle buses. Your badge not only indicates that you are registered for the event, but it is also a courtesy to other registrants.

Check the registration page for the event for information about express check-in and satellite pick-up options for attendee badges.
---
Program Cancellation
Virtual and in-person event refund policy
We work hard to bring you world-class learning events virtually and in person that meet your needs. At times, given unforeseen circumstances, there may be a need for an ASCD event to be canceled or postponed. When this happens, ASCD will refund your event registration fee but will not be responsible for costs associated with in-person events, including but not limited to, cancellation/change fees associated with hotel, airline, other transportation, or travel agency fees. In these uncertain times, it is recommended you do not purchase nonrefundable, nonchangeable flights or hotel stays. ASCD will not refund registration fees due to weather or travel-related cancellations or delays.
---
Can't Attend?
If you are unable to attend an event for which you have registered, contact ASCD by email or regular mail (ASCD, P.O. Box 826887, Philadelphia, PA 19182-6887), no later than 14 calendar days before the start of the event. You may send a nonregistered person in your place, request a gift certificate for ASCD products or future ASCD events, or a refund.
Processing Fees: ASCD charges fees for processing event refunds. Processing fees are deducted from the registration refund amount.
$25 for virtual conferences;

$50 for a single in-person conference or institute;

$100 for both an in-person conference and pre-conference institute(s);
After the 14-day time frame you are ineligible for a refund, but you may send a nonregistered person in your place, with registration confirmation or written authorization from you.
---
Certificate of Attendance
A certificate of attendance will be emailed to all conference participants about one week after the event.
---
Commercial Policy
ASCD has a strong commitment to high standards of scholarship and professional development. Commercial solicitation is entirely prohibited at events unless otherwise stated on our website. Please immediately report any violations to ASCD staff.
---
Accessing Presentation Materials
Information on how to access session materials can be found in the Know Before Your Go email, one week prior to the event.

Meeting rooms will have wireless access and limited electrical outlets. We encourage you to download the materials to your laptop or print copies and bring them with you to the sessions. There will be charging stations throughout the common areas, but please make sure your laptop is charged each morning.

iPad® and iPhone® users may need a special app to view the presentation materials or take notes. Several apps are available for interactive PDF usage, but they may require a purchase fee.

Presentation materials are intended for the registrant's personal use only. Further reproduction and dissemination, in whole or part, requires the permission of the various owners as credited within the presentation materials. ASCD publications present a variety of views. The views expressed or implied in the presentation materials are not necessarily official positions of ASCD.
---
iPad® and iPhone® are registered trademarks of Apple, Inc.
Questions and Comments
Please contact ASCD at 1-800-933-ASCD (2723), Monday–Friday, 8:30 a.m.–5:00 p.m. U.S. eastern time, or send an email.