The need for social-emotional learning (SEL) has risen to the forefront in preK–12 education. The recent unsteady years in education have had lingering effects on the ways in which students understand themselves and relate to others. A 2021 report on educator confidence conducted by Houghton Mifflin Harcourt and research group YouGov found that 72 percent of teachers ranked student SEL as their number one professional concern, ahead of teacher salaries and students falling behind academically.
The Collaborative for Academic, Social and Emotional Learning (CASEL) describes

five core competencies

that are essential for children and adults to thrive: self-awareness, relationship skills, self-management, responsible decision-making, and social awareness. By developing these SEL competencies in students, educators can help mitigate harmful interactions, such as bullying and cyberbullying. Here's how.
Bullying Victimization
Bullying is a colloquial term that describes relational or physical violence between students, while cyberbullying describes similar acts committed online. The American Education Research Association (2013) advised that the terms "school violence" and "bullying victimization" (BV) more accurately describe the problem, cautioning that "educators and scholars should not limit themselves to the traditional definition" (AERA, p. 7).
Bullying victimization differs from normal conflict between students. It is marked by an imbalance of power between students and consistent repetition. When we think of bullying, we often first think of physical bullying, but relational and verbal bullying are also common, and can escape educators' attention. The U.S. Department of Health and Human Services (2022) defines three categories of bullying victimization:
Verbal bullying through teasing, name-calling, inappropriate sexual comments, taunting, and threats.

Relational bullying intended to hurt a person's reputation or relationships through spreading rumors, public embarrassment, excluding someone, or telling others to do so.

Physical bullying through hitting, kicking, pinching, spitting, tripping, pushing, taking or breaking possessions, and making mean or rude gestures.
Student Roles in Bullying
These acts of school violence rarely occur without the knowledge and tacit participation of others. In addition to the perpetrator and the victim, other students can play important roles. Some, while not directly involved, actively assist by encouraging bullying. They may even occasionally join in themselves. Others reinforce the situation by laughing or cheering, emboldening the perpetrator. Importantly, students who encourage bullying may in fact be trying to avoid becoming a victim themselves.
These acts of school violence rarely occur without the knowledge and tacit participation of others.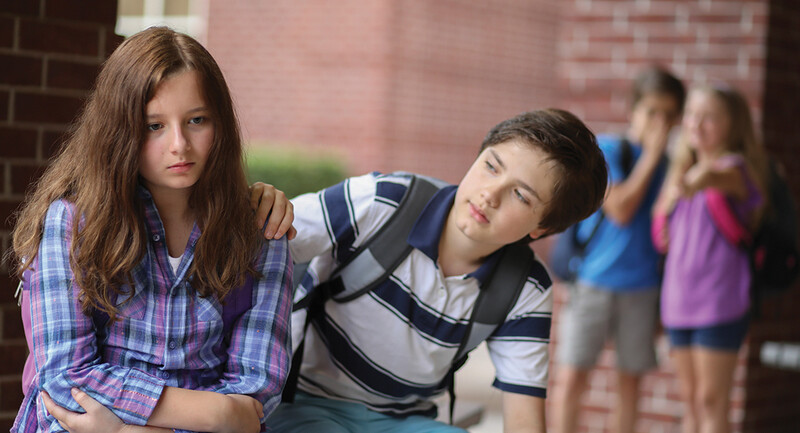 Other students take on a more passive role. They are bystanders who are aware of what is happening but turn away from the situation, often because they are not sure how to intervene. These students are especially crucial for anti-bullying efforts because they can learn to take actions that don't require direct intervention, such as seeking adult assistance.
Another important role is that of the defender. These are children who rise to the defense of the victim, confronting the bully directly. Interestingly, this role is influenced by the classroom and school climate. While defenders tend to have a higher social status, that alone does not determine which students intervene. Research shows that in school environments where bullying was less accepted, a higher number of defenders emerged (Lucas-Molina et al., 2018).
The Role of Universal SEL
Social-emotional learning initiatives have evolved over the last two decades as educators and researchers have come to understand the importance of integrating SEL into the school day as opposed to only covering it in isolated lessons. Such efforts, referred to as universal SEL interventions, include violence and bullying prevention.
A 2020 study explored the impact of universal SEL efforts on reducing bullying among nearly 24,000 Delaware students in grades 3 through 12 (Yang et al., 2020). It found that three core SEL competencies—social awareness, relationship skills, and self-management—along with students' positive perceptions of their school's climate, were associated with lower levels of bully victimization. In other words, less bullying occurred in schools with a higher degree of SEL. The researchers also emphasized that kindness, the ability to be empathetic, considerate, and to take positive action on behalf of one another—not just friendliness—is a key component of any learning environment.
A Role-Playing Activity
Role playing is an excellent way to help students practice decision-making in advance of future bullying victimization events. In the video that accompanies this column, you'll see 3rd grade teacher Lucy Jiménez from the Chula Vista Elementary School District in California lead her students through an opinion-station discussion protocol in which they will witness a verbal bullying event. Ms. Jiménez has arranged the room so that students can move to an area that best reflects one of several possible responses: Take a Stand, Seek Help from an Adult, Talk to the Person in Private, or Walk Away and Ignore. They can then rehearse their chosen action with peers. Note how they draw on other dimensions of social-emotional learning, including using their knowledge of kindness, communication skills, social awareness of others' perspectives and beliefs, and decision making about their actions.
Ensuring Safety for All
The return to in-person schooling has been challenging for some students, even those who have strong emotional intelligence. They have had less experience managing group relations and the complexities of interactions with others. Educators understand the need for universal social and emotional integration in schooling. Let's capitalize on these efforts to ensure safe learning environments.
Better Learning Through Structured Teaching
Doug Fisher and Nancy Frey's book, now in its 3rd edition, provides an instructional framework for helping students become successful learners, well-equipped with social-emotional strategies.